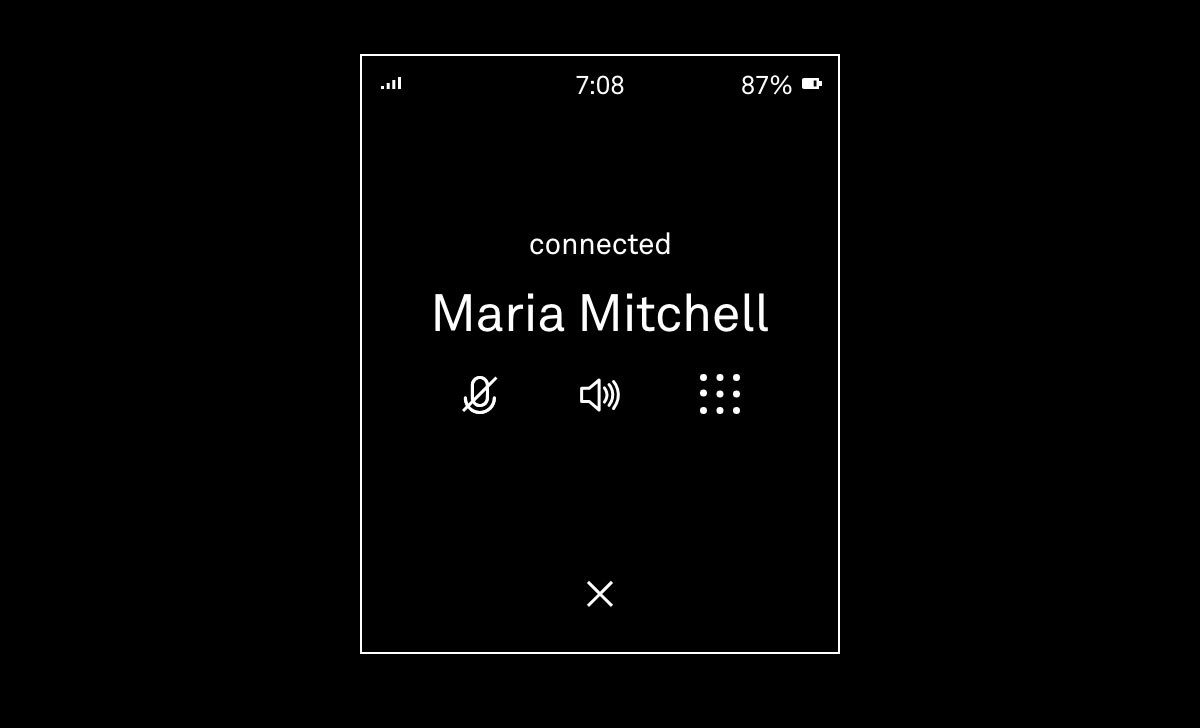 The status bar appears at the top of the screen with the current time, remaining battery and signal strength. There is not a call timer.

You have the options to mute the call, turn ON the loudspeaker, open the dial pad, or to end the call itself. An underline will indicate if the mute or speaker function is enabled.



Adjusting Volume During a Call
Use the UP and DOWN buttons on the right side of the phone to adjust the volume.
Headphones / Headsets
You can use headphones/headsets while on a call. If they are plugged into the headphone jack, the call will automatically sound through the headset. If it is a bluetooth device, it will need to be connected in the settings prior to the phone call in order for the call to forward to the bluetooth device.
Proximity Sensor
While on a call the proximity sensor is enabled so that when you hold the phone near your face to talk the interface is not accidentally pressed by your cheek.
Leaving a the Call Screen to Do Something Else:
You can leave a call, for example to check a text message, using the side MENU button. You will still be connected to the call, but you are able to click through your phone's history/settings etc. To return to the CALL CONNECTED screen, you'll need to press the POWER button to sleep the screen and then again a second time to wake it back to the call connected screen.
What happens when someone calls you while you are on a call?
There is not currently a way to answer a second call while on the phone with someone else, but we have call waiting feature coming. You will hear a ping when you are getting an incoming call, the incoming caller will be routed to your voicemail, and you will see the notification of the missed call in your recent history. There is no way to merge the two calls.